Shabbat Services are held Fridays at 7:30 PM, except the first Friday of each month when services start at 7:00 PM.
Family Shabbat
First Friday of the Month at 7:00 PM.
A Children's Prayer Book is used, the Youth Choir generally sings, and there is a special presentation for children each Family Service. We also celebrate birthdays each month at this service!
Youth and Teen Choirs
Temple Beth Am offers a Youth Choir for children in grades K-6, and a Teen Choir for youth in grades 7-12. Email school@tbaparsippany.org for more information!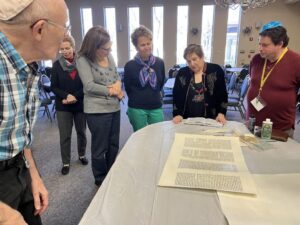 Adult Choir
Temple Beth Am offers an adult choir under the direction of our talented Music Director, Iouri Grichetchkine! Contact Iouri at iourigrichetchkine@gmail.com for more information.
Saturday Morning Shabbat worship is held when a B'nai Mizvah is being celebrated, or when we are holding Torah Study.
Consult the Temple calendar for these dates.
Torah Study is our in-depth gathering where we come together to study with the Rabbi. Torah study meets once monthly at 10 AM for a Shabbat service. Because the particular Shabbat mornings on which we meet from month to month may vary, check Upcoming Events at TBA for dates.
Torah Tot Time is our monthly interactive program for children aged 18 months-6 years and their parents and/or grandparents. This is a high energy, fun, kid friendly program open to all including those not enrolled at Temple Beth Am. Please check Upcoming Events at TBA as dates may vary from month to month.