When a young person reaches the age of responsibility, he is termed a Bar or Bat Mitzvah, meaning "son or daughter of the commandments".
The significance of the B'nai Mitzvah is that the young person is now responsible for performing Jewish obligations, called "mitzvot". It refers to the time in Jewish life when a young person reaches maturity for fulfilling the religious, moral and ethical commandments of Judaism. At this age, the young person can be included as one of the ten persons or "minyan" required to form a quorum for a Jewish worship service.
The Bar Mitzvah who is called to the Torah, recites the appropriate blessings, as well as a portion of the Torah and a section from the Prophets, called the Haftarah. The ceremony confirms the young person's newly acquired adult role in the Jewish community.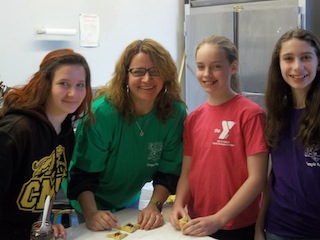 Temple Beth Am has a fine education system that encourages children to become a Bar or Bat Mitzvah and then go on to our Confirmation Acadamy.
To become a Bar or Bat Mitzvah, the child must be registered in the Temple Beth Am Religious School and have a minimum of five years of religious and Hebrew education.
The boy or girl must be a minimum of 13 years of age and be a student in good standing. They must attend all Bar/Bat Mitzvah classes and tutorials, attend a number of Shabbat/Holiday services and do a Mitzvah project of their choice .
All Bar/Bat Mitzvahs are celebrated on Saturday mornings at 10:30 AM.
Bar/Bat Mitzvah families are asked to usher at the Bar/Bat Mitzvah prior to their own.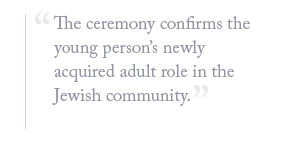 Six or more months prior to your child's Bar/Bat Mitzvah, there is a mandatory parent/child meeting with the Rabbi, Cantor and various arms of the Temple to discuss the guidelines and services offered. Parents and siblings are encouraged to participate in all phases of this important time in your child's life.
We have a comprehensive Bnai Mitzvah Manual that provides complete information of the program and all forms you will need. You will receive a copy at the parent/child meeting. You can also view the manual by clicking here.
For all questions please contact the Bnai Mitzvah coordinator at bnaimitzvah@tbaparsippany.org