Becoming a bar or bat mitzvah is a momentous spiritual milestone in the life of a young person.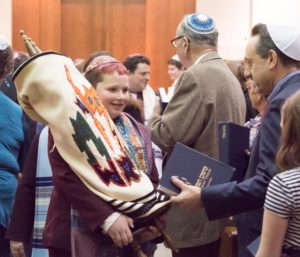 At Temple Beth Am, we celebrate with our families as their children reach the age of thirteen, and formally commit to becoming responsible for following the commandments.

Training to become a bar or bat mitzvah begins with study in the younger grades of religious school, where students learn about Jewish history, culture, customs, values, Hebrew prayer, and how to live life Jewishly. Eight months prior to the service date, each student begins individual tutoring to learn to chant Haftarah (a selection from one of the books of the Prophets) and Torah, and starts the process of selecting and working on a tikkun olam project of the student's choosing. Final preparations and rehearsals will be conducted by our Rabbi in the weeks before the service.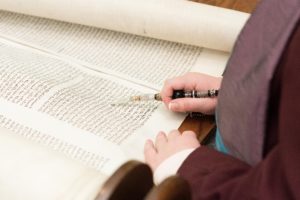 The weekend of the celebration, the student and his or her family, yad pointer in hand pointing to words on torah scroll, will participate in the Friday night erev Shabbat service. On Shabbat morning, the student will lead the congregation in prayer, chant from Torah and Haftarah, and reflect on the meaning of our sacred texts today.
Parents and siblings are encouraged to participate in all phases of this important milestone.
For all questions please contact our B'nai Mitzvah coordinator, Debbie Lesser, at bnaimitzvah@tbaparsippany.org