History
OUR HISTORY
In 1966, a handful of families had a dream to establish a Reform Temple in Parsippany, New Jersey.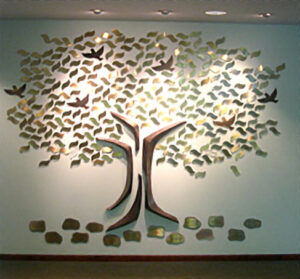 The first meeting was at the Parthenon Diner, where the Arlington Plaza now stands. At that meeting a representative of the Union of American Hebrew Congregations explained the requirements for establishing a new congregation to those present. Subsequent meetings took place and 17 families offered to be sponsors of the Temple. Volunteers from this small group sent out over 600 letters to non-affiliated Jewish families inviting them to a public meeting. This meeting was to be held in the all-purpose room of Troy Hills School. About 30 families signed on as charter members and an interim Board of Trustees was elected to serve until May 1967.
The immediate goals were to establish a name for the new Reform Temple, hold weekly Shabbat services, and to start a religious school. Concentrated efforts by this group of families made all these things happen in quick succession. Our first Shabbat service was held in December 1966, our religious school got under way, and our name was officially approved and recorded. Our own members served as volunteer teachers in the school. The first year came to an exciting conclusion with a gala dance-swim party at the Pine Brook Country Club. Within a year, our membership had grown to 35 families. Due to an increase in membership we moved to Rockaway Meadow School.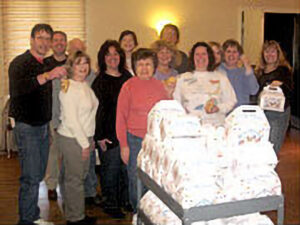 On August 26, 1972, after years of fund-raising activities, Temple Beth Am opened the doors to our own building at 879 South Beverwyck Road. As we carried the Torahs from our temporary home to Beth Am, a dream became a reality. Walking with the town officials, other members of the clergy, and our congregants, the excitement and joy in the eyes of our children, was a heart-warming sight to behold. For them, they would now have a place where they could learn of their heritage, study Hebrew, have a place to worship, and a place to congregate. In 1988, we realized the second part of the dream and dedicated a substantial addition housing our Sanctuary, a new lobby, offices and a library.
---

"The immediate goals were to establish a name for the new Reform Temple, hold weekly Shabbat services, and to start a religious school."

---
Over these past years, we have watched our children become Bar/Bat Mitzvah and Confirmed, have celebrated as they stood under the chupah, and brought their own children to the synagogue to be named. We have welcomed many new families and rejoice as we share in the life cycles of their families.
Today we are a thriving congregation of Jewish life. We continue to provide the residents of Morris County a liberal, egalitarian, interfaith-friendly, welcoming congregation.The enthusiasm and dedication shown in the past will continue to flourish and the doors of our synagogue will always be open, making it truly a House of the People.