Helping our Neighbors and Our World
The Social Action committee at Temple Beth Am is charged with creating opportunities for congregants to get involved in activities to benefit others. We have held food drives, coat drives, created birthday in a box for underserved children, built an ark out of food, and visited seniors in New York City.  In 2019 our call to action continues as we donated school supplies to underserved children in a neighboring community, will once again visit seniors in NYC, and be trained by First Friends of NY/NJ to visit immigrants who are being detained in four centers in New Jersey.  We invite suggestions for projects.
Current Projects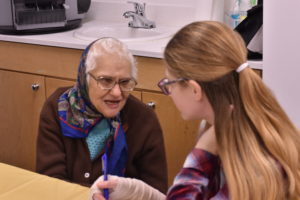 Project Ezra
Project Ezra is a nonprofit organization that helps the Jewish elderly to live with dignity, companionship, and community on NYC's Lower East Side. Founded in 1972, Project Ezra provides elders with a spectrum of social services, community activities and home help.
Ezra means "help," and that is the mission of the organization.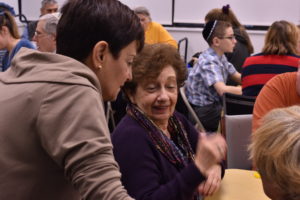 Temple Beth Am visited the seniors in 2018 and brought gifts, interviewed them and one of our student pianists entertained them. We will visit again on December 8th with our 5th and 6th graders for a similar program.
Project Linus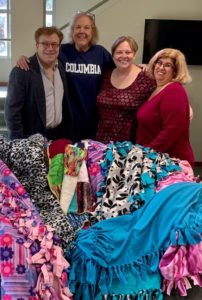 Temple Beth Am is proud to be a drop off location for Project Linus, an organization that provides warm blankets to children who are ill or in trauma. We have also contributed blankets made by TBA members, including children in Morah Lynn's "Mitzvah Menches" elective last spring, and the many knitters and crocheters who provided Jill Volarich with pieces to turn into colorful blankets.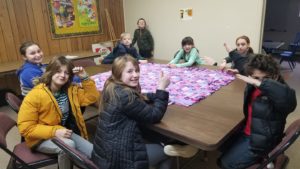 If you are a fabric or yarn crafter (or have friends who are!), you may drop off donations of NEW blankets in the Temple Beth Am lobby for Project Linus. Blankets can be knitted, crocheted, quilted, applique'd, made of tied fleece – their method of creation is limited only to your imagination :). Please contact Lynn Anne Cutler at school@tbaparsippany.org if you have any questions.
First Friends NJ
Victor Salama, Executive Director of First Friends NJ and NY recently visited Temple Beth Am to share with us the mission of First Friends NJ. Immigrants are being detained in four locations in New Jersey, Essex, Hudson and Bergen Counties and a privately owned location in Elizabeth. Some have been incarcerated for as long as three years, having never seen daylight or having a visitor.  Their crime…trying to come to the United States to escape from gang violence, threats on their families if they did not join those gangs, hostile environments, beatings, and extreme poverty.
First Friends trains volunteers to visit detainees, raises funds to bond those who can be released, provides short term housing, clothing and bus tickets to locations where relatives may be living. These detainees come from Africa and Central and South America.
Please contact Amy Marcus or Marcia Geltman at socialaction@tbaparsippany.org if you are interested in becoming trained to join First Friends in this important work.