Support Temple Beth Am every time you shop!
Temple Beth Am is offering gift cards for your favorite stores through ShopWithScrip.com.  This is a simple way to earn money for the Temple — you buy gift cards at face value and the Temple receives a percentage (rebate) of that value directly from the Great Lakes Scrip Center! Rebate percentages vary by store, but it's amazing how quickly the dollars can really add up! You can get great gift cards for groceries, gas, restaurants, entertainment, and more.
How do I Participate?
Although Scrip Purchases can be made directly via a quick stop or call to our Temple Office – our scrip program now offers an online ordering option for easy selection of gift cards.  We support payments of scrip via check, credit card (2.5% convenience fee) as well as electronic payment using PrestoPay (15 cents per transaction fee).
To sign up, please complete the following steps:
Go to ShopWithScrip.com and click the Registration link on the main page.
Enter the enrollment code CONTACT TBA OFFICE and complete your information and then you will be ready to order scrip!
OPTIONAL:  For direct easy payment setup a PrestoPay account with ShopWithScrip.  After setup setup a register code will be sent to you from ShopWithScrip — you will need to forward that code to Temple Beth Am at Scrip@tbaparsippany.org
Once your scrip order is complete, please immediately pay for the Scrip via Check, PrestoPay or Credit Card so that the order can be processed.
We intend to process scrip orders on a monthly basis and will maintain an inventory of select grocery stores as we always have. For scrip orders other than grocery stores please ensure that all orders are input into ShopWithScrip.com site by 5PM by the 15th of the month. Please note that purchases can be ordered directly through the TBA Office.  Those gift cards will then be shipped to us and you will be notified by the scrip coordinator to pick up your SCRIP. We may have special timing around holiday and vacation periods, and we will notify you of any changes.
What is PrestoPay?
PrestoPay is similar to using an online service like PayPal to submit payment directly from your bank account. PrestoPay payments also allow you to reload certain cards directly through the ShopWithScrip website and get ScripNow! e-scrip right away. This means that the Temple can receive a percentage of your gift card purchase amount with EXTREMELY little effort right from the comfort of your home computer!
Please note that payment via PrestoPay costs 15 cents per transaction and Credit Card via the TBA website has a 2.5% convenience fee, but these fees are a small price to pay due to the fact that it eliminates all the time and effort required to coordinate cash or checks. Please review all of the terms and conditions related to the scrip program and PrestoPay at ShopWithScrip.com.
Share in the savings with Temple Dues Reduction Program!
What is the Temple Dues Reduction Program? 
The Temple Dues Reduction Program allows our Temple members to receive credit towards the following year's Temple Dues.   The more you purchase from scrip, the more you will save on next year's Temple Dues.  
How does the program work?
Temple Beth Am requires a purchase of enough scrip for the Temple to earn rebates equal to $100 per family or $50 for single members.  Otherwise, the member is subject to a surcharge.   Any amount received above the minimum Scrip Indirect Earning Donation is considered as an "Overage."  The Temple Dues Reduction Program will take 50% of any overage as a credit/offset to Temple Dues for the following fiscal year (TBA fiscal year runs July 1 through June 30).
Example of Temple Dues Reduction Program:
A family over an entire year makes $10,000 dollars worth of scrip purchases that offers a 10% rebate percentage to the Temple (i.e. book a  cruise — they offer 9%).   The family will receive a $450 credit to reduce the next years Temple Dues!  
| | |
| --- | --- |
|  Overall Scrip Donation | $1000 |
| | |
| Temple Scrip Commitment for Family | 100 |
| Overage to Temple Amount | 900 |
| | |
| 50% Overage to Member | $450 |
It's very easy to save — see potential ways below: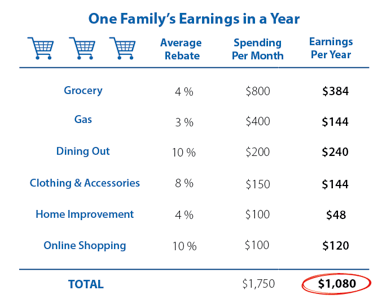 For any questions on Scrip – please contact the TBA Office directly, email us at Scrip@tbaparsippany.org