Cantor Vicki L. Axe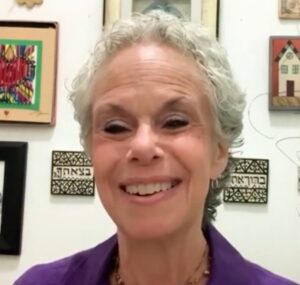 Before coming to our Temple Beth Am Family as Cantor, RabbiCantor Vicki L. Axe served congregations in New York, Connecticut, and Ohio. For the past eighteen years, she served as Founding Spiritual Leader and Educational Director of Congregation Shir Ami in Greenwich CT before stepping down to become full-time caregiver for her husband, Harold.
She holds a Bachelor of Music Education from Temple University in Philadelphia PA, Master of Arts in Music Education from the Ohio State University in Columbus OH, and Ordination as Cantor from the Hebrew Union College-Jewish Institute of Religion, Debbie Friedman School of Sacred Music.
In 2008 RabbiCantor Axe was awarded Doctor of Music honorous causa from HUC-JIR, and Rabbinic Ordination from the Rabbinical Academy of America. In 2016 she earned her Doctor of Ministry in Pastoral Care and Counseling (DMin) from HUC-JIR.
Blessed with the gift of voice, RabbiCantor Axe feels comfortable with an audience from preschoolers to seniors, on a concert stage with a symphony orchestra, or in a classroom with learners of all ages and backgrounds. Her greatest joy is teaching and pastoral care which she offers from the bima, in the classroom, at a hospital bed, or on a stage.
As a performing artist, RabbiCantor Axe has delighted audiences throughout the United States, Canada, and Israel. She appeared as soprano soloist with Dave Brubeck in a performance of his cantata, The Gates of Justice which she also produced, and performed with Marvin Hamlisch for whom she prepared a multigenerational choir. Her repertoire is richly Jewish and it has been said that "her glorious voice and charisma invite an awakening of the Jewish heart and the human spirit."
Known for her talent and passion in the areas of Jewish education, conducting, and creative programming, as well as liturgical art, RabbiCantor Axe has served on the conducting faculty of the North American Jewish Choral Festival since 1997, directed URJ regional and national choirs, both adults and children.
A master teacher, RabbiCantor Axe has prepared hundreds of children to become B'nai Mitzvah, taught cantorial and rabbinic students at the Academy of Jewish Religion as well as HUC-JIR, has visited many congregations as Scholar-in-Residence, and presented workshops on Jewish music and Jewish life for public schools, civic groups, and the Union for Reform Judaism.
A national leader in the Reform Movement, RabbiCantor Axe served on the Board and Executive Board of the URJ and is a past president of both the American Conference of Cantors and the HUC-JIR Debbie Friedman School of Sacred Music Cantorial Alumni Association.
She was married for 48 years to Dr. Harold Axe until his death in April of 2020, is devoted mother to their four sons, Judah and his wife Ellie, Noah and his wife Amira, Gabriel, and Daniel, and most recently proud grandmother to Maren, Nora, Jillian, and Augustin.
In Her Own Words:
"In my 30+ years serving as a congregational rabbi and cantor, my goal, whether through worship, study, singing, chanting, cultural and community events, has been to open the hearts of our people to Jewish life and experience so that they can make informed choices about their Jewish identity.
Teaching is at the very core of everything I do. Synagogues today have become an environment of Life Long Learning, and my goal is to bring the world of Jewish life, culture, history, practice, and language to learners of all ages.
As a cantor I have the privilege of giving voice to God's words and teachings through the music, and as both cantor and rabbi I can bring a unique passion and energy to all areas of synagogue life. My role within the synagogue community has always been through engagement in teaching, counseling, healing, advising, and managing, as well as the musical life of the synagogue.
It is my sacred task to draw people into the synagogue for the spiritual nourishment they so desperately need as together we all face the challenges of the 21st century."